Australian disability advocate Stella Jane Young says, "We are a society that treats people with disabilities with condescension and pity, not dignity and respect. About 10 percent of the world's population, i.e. about 650 million people live with disabilities. They are the ones who frequently encounter countless physical and social obstacles. Sadly, if they are women they are doubly discriminated: for being a women, and for their disability. Nepalese society, too isn't far from this stigma. On the contrary, there are a group of handicapped women who are bold and have struggled enough to change their identity from 'disabled' to 'differently abled' women empowering themselves with education.
Meena Paudel, 37, from a remote village of Nepal, Ramechhap has set an example of continuous effort and struggle. Now, a general secretary of National Disabled Women Association, Meena's struggle started when she was born, obviously for being born a daughter and that too a disabled one. Being born with scoliosis (a disorder in which there is a sideways curve of the spine, or backbone), pain has been a challenge to her.
Nepali society where disability is still viewed as a punishment to the sins committed in previous birth, Meena was treated worst as an object of pity. No one really cared for her; even she was abandoned by her guardians. As she grew up, she desperately wanted to learn to read and write, but school wasn't an easy destination for her. Fortunately, she had a younger brother and her parents wanted her to go to school with him as his caretaker. Surprisingly, her brother failed the board exams while she passed. That really encouraged her to continue her study.
Her self motivation was so strong that she didn't deter her urge of learning even after being called as langadi (a derogatory term for disabled) by her class mates and seniors. Physical discomfort always made her long playing with her friends. Not only that, amazingly, the approximate two hours difficult walk up and down the hill to reach her secondary school, too couldn't stop her from going to school. She passed through dense forests and crossed the rivulet every day and went to school.
When Meena left home for Kathmadu, Nepal's capital to continue her high school study, she wasn't supported by her family. However, she remained enthusiastic. Thinking of her own hardships, she thought of helping other disabled women like her and started an organization for disabled women through that she used to provide training to other women. Lack of funds arouse another problem for her which she used to overcome doing different temporary jobs like typing. Later, she started working as a program co-ordinator of National Disabled Women Association. Through which she was able to continue her study, her work of motivating other disabled women and started shaping her vision. She used to go door to door and aware people about the rights of disabled women and importance of education.
Meena shares, "Until and unless disabled women are economically empowered, we cannot imagine prosperous society and education is the means that paves the way of economic empowerment. I, too am able to do these works because of education."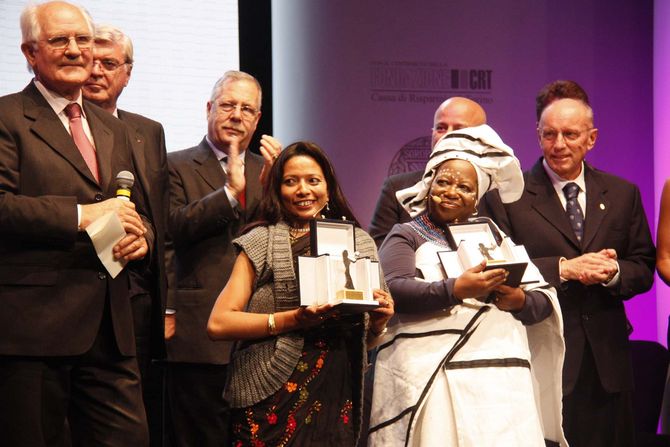 For her vivacity and struggle, she was awarded as Aosta's (Italy) 'Women of the Year, 2011'. The prize money of 17,500 euro that she was awarded helped her to contribute more in her work. She utilized that money in organizing skill development training for the handicapped women of Banke and Kanchanpur districts and also helped them to start their own business by providing them some seed money.
Today Meena is a happy mother (which people thought she could never be), has a masters degree in Sociology (the outcome of her continuous struggle) and puts all her energy (passionately) as one of the board members of NDWA, involving women with physical disabilities and raises awareness for their social inclusion and equality. She expresses, "When I present myself as an example among other disabled women, they really get surprised and inspired to get education and be empowered. I am elated to be the one to rewrite the code of the disabled women."
"Lot of changes have been made till date. Yes, the condition of disabled women have definitely risen in some level but there's more to do", Meena says firmly.
The government of Nepal has not been able to do significant work for disabled people on various basic activities like establishment of special need education school, launch skill development training, rehabilitation of disabled people. In this context, the achievement that Meena has been able to secure for herself and for other disabled women is praiseworthy. She breaks the taboo and rewrites the code of how society sees the disabled women.