Americans are really proud of a vast network of roads which includes more than 4.3 million kilometers of paved roads only. While I was in Nepal and gazed down from a flight, I used to see many rivers, forests, mountains, lakes, but barely few roads like ribbons. But in the USA, distinct things you can observe are roads, flowing like rivers everywhere. So, if you guys are in the US, they never miss an opportunity to go for a road trip. Here are few things to do on a road trip.
Which Road trip to Choose?
This depends on multiple factors: Short trip, long trip or, crazy long trip. If you do permutation and combination and apply your crazy undergrad mathematics, then you will have millions of trips possible. Each route has its own taste, so based on season, purpose, and your available time, you can choose your trip. Suppose you decided to go for a long trip, then here are few options and things you can do.
From Boston to Key West, FL
Approximate 40% of US population lives near a coastal line from Boston to Miami, this route offers a wide variety of attraction from city life to wildlife observation and from scuba diving to capital city visit. The major cities to visit on the road are New York, Washington DC, Myrtle Beach, Orlando, Miami and Key West. You can divert your trip little bit to go to Atlantic City. The distance is 1700 miles and the continuous drive takes approximate 28 hours. It will be better to spend the night in multiple places and split the trip into 4 parts. Boston to DC (8 hrs), DC to Marytl Beach (8 hrs), Marytl beach to Orlando (8hrs), and Orlando to Miami and Key West (7 hrs).
In Boston, you can enjoy Musem of fine arts, visit MIT and Harvard and Charles River areas and visit Waterfront. From Boston, you can head to Big Apple, New York which is about 4 hours drive. In New York City you should visit the central park, Brooklyn Bridge, Times Squares and Manhattan, Staten Island Ferry (free), and metropolitan museum of fine arts. Oh, don't forget to ride on the subway, go to Grand Central terminal and try street foods sold on carts.
For your next stop Washington DC, the drive is about 4 hours and if you like Casino, then you can bypass your trip to Atlantic City which is situated on the Atlantic Ocean and second biggest gambling city after Las Vegas. DC has a wide variety of attractions to offer from visiting United States Holocaust Memorial Museum to waving president in White house if lucky and from Lincoln Memorial and reflecting pool to kayaking in Potomac River. Most of the attractions you will find around national mall area, so you don't have to spend much time traveling. Also, if you don't feel walking much, you can do scooting on seaway also. If you are visiting in September to October month, then you can see wonderful cherry blossoms as well. You should stay the night in DC and one and half day should be enough to visit the area.
Your next destination Myrtle Beach, SC is 8 hrs drive. Instead of going through I-95, you can take I-81 which makes drive one hour long, but the roads are less crowded and you can also enjoy the scenic view through hills of Virginia. On the route, little south of Lexington Virginia, you can make a stop for Natural Bridge, which is beautiful gorge carving by Cedar Creek on the Limestone Mountains and also a sacred site of Native American. In Myrtle Beach, you can do all kinds of stuff you do in beach such as Whale Watching, Helicopter ride, Sunbath, view the sunrise, jets ski, parasailing and much more. You will also find some kind of concert always going in the place. In entertainment zone, you can find bars, clubs, restaurants, bowling alleys, movies etc. The cities are small but full of people and attractions, beaches are clean and people are friendly. Oh, don't forget to have Boardwalk which you do anyway, ride on Sky Wheel, ride on a camel, have beach tour on horseback, and go for new south brewing beer tour. If you are going with family and children, then Myrtle Beach is one of the best beaches to visit.
You might be tired of driving at this point and if you go through I-95, then you will find more traffic and big trailers on the highway which might exhaust you. Instead, you can go through US route 17 from Myrtle Beach which is Coastal Highway and merges in I-95 after Charleston. There are not many things to do in between, so better you drive straight to Orlando, design trip to arrive in the night. Obviously, the only place to go in Orlando is Disney Theme Park or, Universal Studio. Among 4 Disney theme parks, you can go to chose Epcot or the Animal Kingdom if the only adult are with you. Test Track and Mission to Mars in Epcot and Expedition Everest, rafting in Kali River and Jungle Safari are not to miss places. If you want to go to Universal Studio, do not miss to go to recently opened The Wizarding World of Harry Potter.
You can start your next trip to Key West through Miami from early morning. This 6 and half hour drive offers a mesmerizing view of Everglades National Park, Atlantic Ocean, and gateway to the Caribbean. At 7 mile bridge, you feel like flying over the ocean; the view is so beautiful that you cannot resist praising the nature. You can also stop in places for fishing, catching lobster, scuba diving and enjoy coral reef.  Don't get scared if you see gators crossing roads near Key Largo. The name of Hemingway and Humphrey Bogart has popularized the palm-lined beaches and characterful streets Key West and Key Largo.
As your final destination, you can enjoy couple days in Miami. In Miami, you can find all kinds of beaches from the quiet beach to crowded beach and high wave beach to clean water beach. Other attraction includes Sea world, Miami Zoo, enjoying nightlife and cuisine, and other outdoor activities such as Jet Ski, para-sailing, scuba diving, aqua jet, and Pangaea exploration. Do not miss to go for air Ride or, kayaking in Everglades Park to watch birds, reptiles, and dolphins. You can also go camping in the park.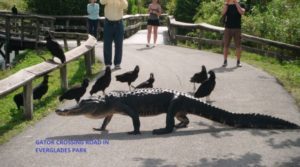 Before starting any road trip, it's crucial that your plan your trip ahead. You should be prepared for long driving and if possible, find a company who can help you for driving. Instead of taking your car, rent it and if you book couple week ahead, you can get it at very cheap price. In most cases, your auto insurance will cover for rental insurance and credit cards also offer insurance for items that are not covered by your insurance. Always keep some extra food, couple gallons of gas, lighter, small axe, and torch in your trunk. If you are not traveling during peak season, you need not book hotels in advance. Sometimes, booking while reaching city can be helpful because you plan might change. Do not spend too much money on hotels, instead, you can stay on the decent hotel where you find people from different culture. Also, do not spend all your time taking pictures, selfie, and updating on Facebook and Instagram. Take a moment to enjoy the ambiance and praise the beauty of nature and be yourself. There is a lot to write about the road trip, in next part will discuss a new road trip.