Every autumn, most of the college students of Nepal plans for the trek of their life. Tilicho Lake trek is strenuous, adventurous, mesmerizing and breathtaking. Legs know no fatigue, a body doesn't mind the loss of calories and eyes do not tired of staring at the landscapes which will take their breath away. And the best thing is the trek is done with the Marsyangdi river by side.   And finally awaits the mind bowing destination.
Yes, I am talking about the trek to Tilicho lake. Surrounded by the likes of Mt. Annapurna, Tilitso Himal, and Mt. Nilgiri, Tilicho lake enjoys the elevation of 4919m, arguably the highest lake in the world. Legend has it that Tilicho lake is also known as Kak Bhusundi Lake as the sage Bhusundi recited the incidents of Ramayana at the place where Tilicho Lake resides today. 
So, where do they start the trek from?
And how many days does it take?
And what about the cost?
I am going to tell you just about that in this article.
Kathmandu to Tilicho: Trek route
Day 1: Kathmandu to Beshisahar
You're in Kathmandu Valley. You have to reach Beshishahar, Lamjung. You can either ride to Beshishar which will take about 7-8 hours or you can fly to Pokhara and take a bus to Beshishhar from there.
Day 2:  Beshisahar to Dharapani
Beshishar is the district headquarter of Lamjung district. Now, you have two options from here. You can either start trekking or drive to Chame, via a highway that connects Beshisahar and Chame or you can drive up to Chamje and start a trek to Dharapani, crossing Marshyangdi river)
Day 3 –  Dharapani to Chame
From Dharapani, you descend down to Chame, headquarter of Manag district. You have officially entered the district of Tilicho lake. This is the last point of the highway and now begins the strenuous trek.
Day 4: Acclimatize in Chame or Trek to Chame to Pisang
Chame is located at a height of about 2600m, which means you might have to spend a day to acclimatize with the climate before proceeding towards Pisang. But if you are familiar with the height, you continue to trek to Pisang.
Day 5 – Pisang to Manang :
You continue a day adventurous trek to Manang (local town inside Manang) from Pisang. Manang is located a height of about 3500 m, which means, you're closer to your destination.
Day 6 of Tilicho Lake Trek: Manang to Khangsar:
A day of a trek from Manag takes to you a small village of Khangsar where about 300 people reside. It can also be regarded as the gateway to Tilicho.
Day 7: Khangsar to Tilicho Base Camp or Tilicho Lake
From Khangsar, you descend to Tilicho base camp. You can either rest a day here or make a historic trek to meet the majestic lake herself located at the height of 4919 m. Since no lodge is located in the place itself, you can either camp there or return to base camp.
Now you have options to return to Kathmandu via the same route or make a roundabout to Pokhara via Mukti Nath.
Here's how you reach Mustang from Tilicho lake and finally Kathmandu.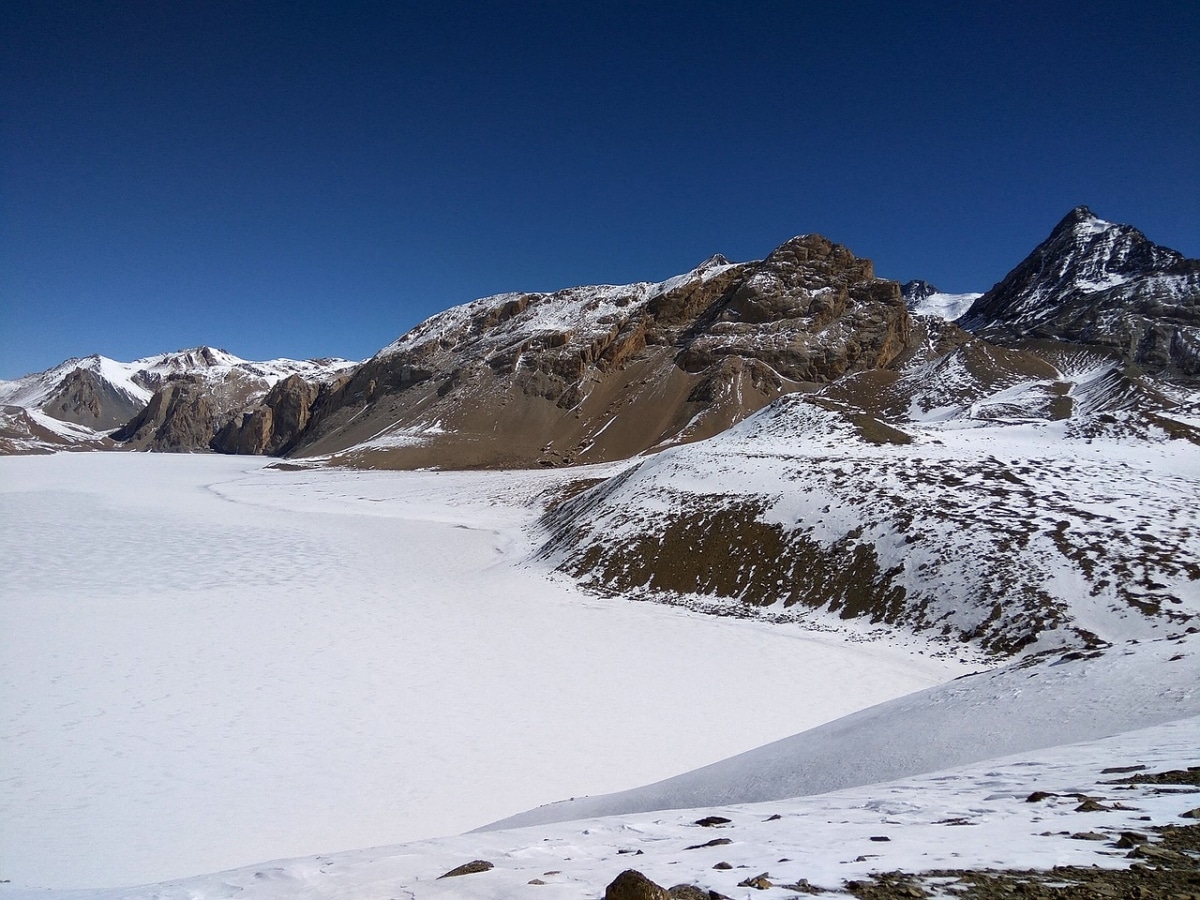 Day 8: Tilicho base Camp to Yak Kharka
Now you have witnessed the majestic lake, its time to trek to Yak Kharka (Yak pastureland) from the base camp as the larger trees are slowly replaced by shrubs and bushes revealing the Tibetesque landscape with Annapurna III and gangapurna smiling.
Day 9: Yak Kharka to Thorang Phedi
You start a trek to Thorang Phedi watching the herd o blue sheep or possibly the snow leopard and crossing the wooden bridge of jarshang Khola. Thorang Phedi lies at an elevation of 4400 m.
Day 10: Thorang Phedi To Muktinath:
This trek will be the one you'll remember forever beside Tilicho, as you ascend to 5412 m reach Thorang la Pass on an alpine terrain watching the white mountains and never-ending landscape of Upper Manang. From Thorag la pass, you descend down all the way to Muktinath temple, one of the popular destination of Hindu and Buddhist devotees.
Day 11: Muktinath to Jomsom
This almost 7 hours long trek takes you to Jomsom via Kagbeni as you descend down and ascend up finally reaching Jomsom, headquarter of Mustang district, located at about 3800m.
Day 12 of Tilicho Lake Trek: Jomsom to Pokhara:
After enjoying the trek for almost ten days, it's time to head back to Pokhara from Jomsom in plane or helicopter or via bus. It is time to rest in Pokhara which will give you time to reflect upon the trekking with a sip of beer in one of the restaurants in Lakeside.
Day 13: Pokhara to Kathmandu:
There you go, you did it. Take a bus or catch an airplane back to Kathmandu.
Cost of the Trekking:
If you're a Nepali citizen, the overall cost of the trekking might come around NRs.25000 if you don't take an airplane. However, for foreign tourists, you can either contact to travel agency (there are plenty of them) who can arrange the Tilicho Lake trek for you. Considering the porter charge and other accessories, the minimum cost may range from $1500 to $3000. But depending upon weather and if you decide to do an independent trek, the cost may rise up to $4000.