I had always wanted to volunteer and do something for my community before I got busy focusing on my career. I've always been interested in exploring new places and meeting new people, especially in rural Nepal. I like learning through experience. All of these reasons combined, motivated me to apply at the International Citizen Service (ICS) VSO-ICS project and volunteer in rural Nepal.
VISO_ICS
VISO_ICS is a development program that brings together young people from the UK and developing countries to volunteer in some of the poorest communities in Africa, Asia, and Latin America. For me, the journey began in Kalimati, a community in Baglung district. Within the community is a cluster of smaller communities spread across the hills -Bhiramuni, Chhari Khola, Gairegaun, Paatley, Thada suwara, and Maalika.
People there rely on agriculture, cattle rearing for their livelihood and, also heavily on the remittance sent by youth working overseas (generally in the Middle East and Gulf countries). The few remaining youths in the villages have a local club, that also provided us with help and support.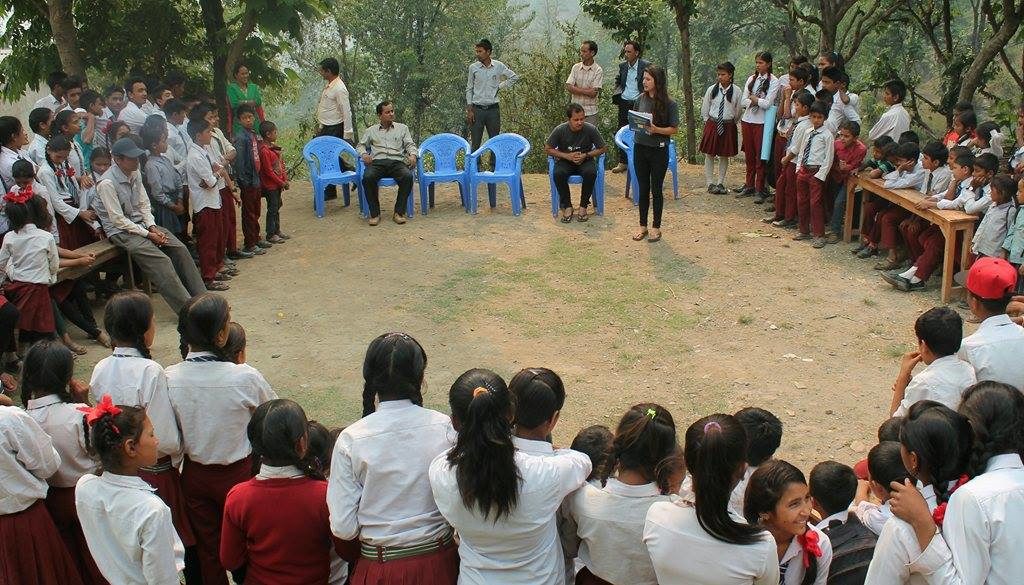 The local club is called Bhimpokhara Youth Club (BYC) and plays an important role in supporting ICS volunteers by providing advice and guidance for community work, finding facilitators for different programs, managing ICS finances for host homes, and with the monthly allowances.
I felt like a misfit.
Like a valley girl, I felt like a misfit. I'd never experienced the glamorous London life or been to the remotest part of my own country. This experience was intriguing and thrilling. Kathmandu is too centralized – most of us don't recognize the struggles of living a life in a remote community. We grew up hearing stories, reading in books but experiencing it first hand is a different story. It can be overwhelming.
There were other challenges. We had to meet the target of the project during our placement period. We had to organize several of health-related awareness programs in a limited time, and complete various pieces of training and work. Getting people to come to our campaign also wasn't as easy as I expected. We walked up and down the hills for hours to invite people to come to our program and were often extremely tired. But, watching kids singing 'namaste', 'hiiii', "byeeee" with their beguiling and cheerful voices, and playing in the fields made the experience worth it.
The home where I was staying was a short distance from the school that I worked at, and kids strolling by the house often grinned and stopped by to give me a hug. It kept me upbeat and I liked being their favorite 'didi'.
Volunteer Experience in Rural Nepal
Unfortunately, there were several individuals in the community, in rural Nepal,  who weren't interested in our work and preferred not to engage with us. But, again, who is to blame here.? Are these villagers tired of volunteers and organizations making promises endlessly.? Always showing hope but never implementing or executing anything.? Maybe they're just tired of us invading their daily life.
The volunteer experience gave me a chance to discover myself. I learned to be culturally sensitive and understand how other people live. I realized that our lives and the things that are important to us may be irrelevant to someone living in a rural village. I was there to assist, understand and work with the local people of rural Nepal, and to share what I knew. I tried to keep an open mind end enjoy the experience.