Dashain Songs For Dashain – It is THE festival in Nepal, don't you need songs to go along with the Dashain Vibe? Well, I've compiled a list of Top 10 Dashain songs, some which have been around for a long time; others which have been composed only recently.
Dashain is a time of merrymaking. The offices are closed, universities and schools are closed, everything shuts down in Dashain. The whole family gathers and there is only a sense of leisure. No pressure. There are kites flying around and there is a lot of pokers and an abundance of drinks and mutton. We enjoy during Dashain more than any other time of the year.
When I sat down to write this article, I found that there is a need for the more genuine musical endeavor in Nepal. If you search for Dashain songs on Youtube, hundreds of songs will be listed and most of them seem to have been uploaded just within the past week. Some were uploaded only hours or days before. To put it gently – most of them were shit. None of them seemed to me like an authentic effort at making a good song.
The shill vocals of the two singers; a man and a woman with the shitty video where both of them have to appear at random times is a very stereotypical attempt at a song, which seems to have taken our music industry like a plague. These Dashain are all sad songs depicting the misery faced by Nepalese in gulf countries and gulf countries only. It all seems like a cheap attempt to make a quick buck. So, I'd really like if more of a genuine and creative song would come out more. Also, it seems that most of these songs are produced by Music Nepal. I don't know why's that though.
Here is my pick for the top 10 Dashain Songs:
10. Mangal Dhun – Sur Sudha
This is the most recognizable Dashain song or tune ever. It is officially not Dashain until random mobile houses in New-road start playing this tune. The band that made this tune is Sur Sudha and Mangal Dhun is part of their album called Festivals of Nepal.
9.Faujilai Kun Dashain Kun Tihar – Jagdish Samal
A song depicting the woes of our Armed forces during Dashain. I always thought that Dashain held the same experiences for everyone but this song made me realize that it isn't so. So many police officers and army personnel don't get leave to go home for Dashain which is sad and Faujilai Kun Dashain Kun Tihar truly encapsulates that sadness. It is a Dashain song exclusively for our men and women in the armed forces.
8.Dashain Tihar Song – Neetesh Jung Kunwar
I think Neetesh Jung Kunwar is a gift for the Nepali Music Scene and this song shows why I think so. It is a short 3-minute song with a simple message "Happy Dashain Happy Tihar" but in these 3 minutes Neetesh's lyrics point out the dire brain drain of our country, he even takes a jab at the government all while retaining that Dashain vibe throughout the song. His lyrics are relatable and the tune of the song is simple and it is this simplicity that makes his songs so good. Also, the video is filmed by  Paradygm TV and is just superb.
7.Namuchhe Aama Dashain ma tika – Narayan Raayamajhi, Krishna Bhakta Rai
This is a very sad song depicting a  son's lamentation to his mother. The lyrics are very touching and the overall mood that this song sets is a melancholy one. Of course, Dashain shouldn't be a time for melancholy but the realization of how wonderful life comes only when we think of death. I guess this song is here to make you realize how grateful you should be towards life.
6.Dashain Ayo – Muglan
A song by Udit Narayan Jha and Dipa Jha. The lyrics by Loknath Sapkota are spot on. A really mellow and well-loved song that might make our parents or grandparents nostalgic of the old times. The youtube video of the song stars Rajesh Hamal and Karishma Manandhar so I'm guessing this was a great hit when it came out.
5.Dashain Ho kii yo mero Dasha – Yogeshwor Amatya
Listening to this song reminds me of Maha Jodi's Dashain short movie. This song so accurately depicts the character of Haribansha. It just shows that everything is not mellow in Dashain, not for everyone at least. I find it as a humorous take on the difficulties faced by the low middle class in Nepal during Dashain but the song's humor conceals a dark reality of Dashain.
4.Dashain – Lekhnath Poudel
This is not a song but a poem. There are many Dashain songs on Youtube but not all of them are great, I've tried to make a list that does justice to music and Dashain. So, here is a fine poem by Lekhnath Poudel.
3.Dhewa Maru – Neetesh Jung Kunwar
Chu yeula Dhewa Malura is the chorus and this is my favorite in this list. Neetesh's guy has big dreams of buying a nilo chillo gaadi next year but things aren't working out for him yet. Dhewa maru talks of the allare back home, the guy who hasn't made it yet. Teenagers maybe or young adults. It is a song that is uniquely different from any other here because this, truly, is a song that most of the youth can relate with in terms of the lyrics and the tune.
2.Yespali Dashain ma – Cool Pokhrel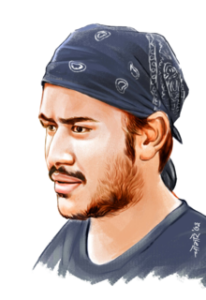 Cool Pokhrel is an icon in the Nepali pop scene. Even though he died early the testimony of his talents are his songs. Yespali Dashain ma carries with it a sadness which is felt by so many Nepalese during Dashain. It captures the essence of the tragedy that Nepal, as a country, experiences. We have so many people going out of the country for work, and it has been so for a very long time. Yes, there have been other songs depicting the tragedy faced by such families in Dashain but none come close to this masterpiece.
1.Dashain Tihar – Sugam Pokhrel
Sugam Pokhrel is one of the most famous pop singers in Nepal. His song Dashain Tihar has a somewhat traditional tone with lyrics that fit today's time which is why I like it so much. It is truly the number one Dashain song for me and I hope It'll be for you too.
One last thing, if you need to download any of those songs from Youtube use this Mp3 Downloader.
Happy Dashain!